Sending Encrypted Emails, electronic contracts and large files
registered with one click.
---
---
Email transmission without uncertainties
The delivery of important correspondence by email can have serious consequences in the event of a dispute. After all, how can it be proven that the submitted email has really reached the recipient? The delivery of important documents is today therefore still often done with the postal registered mail.
RMail offers with its registered email the advantages of registered letters for email. This way, the dispatch, the content and the delivery of a message including attachments can be proven at any time. Furthermore, with RMail each email can be sent encrypted with a single click.
Registered E-Mail
Email Encryption
Email tracking & record
Sending large files via email (LargeMail)
Side notes for selected recipients (SideNote)
Advanced email tools
Free trial available
Register with your own email address and download the plug-in for your email application.
Tracking and proving email delivery
---
The registered email with Registered Receipt
---
A regular email can be manipulated very easily. Neither content nor sending times nor the reception of the message can be definitely proven in the case of a dispute. Important documents should therefore be sent by registered mail in order to prevent uncertainty in advance.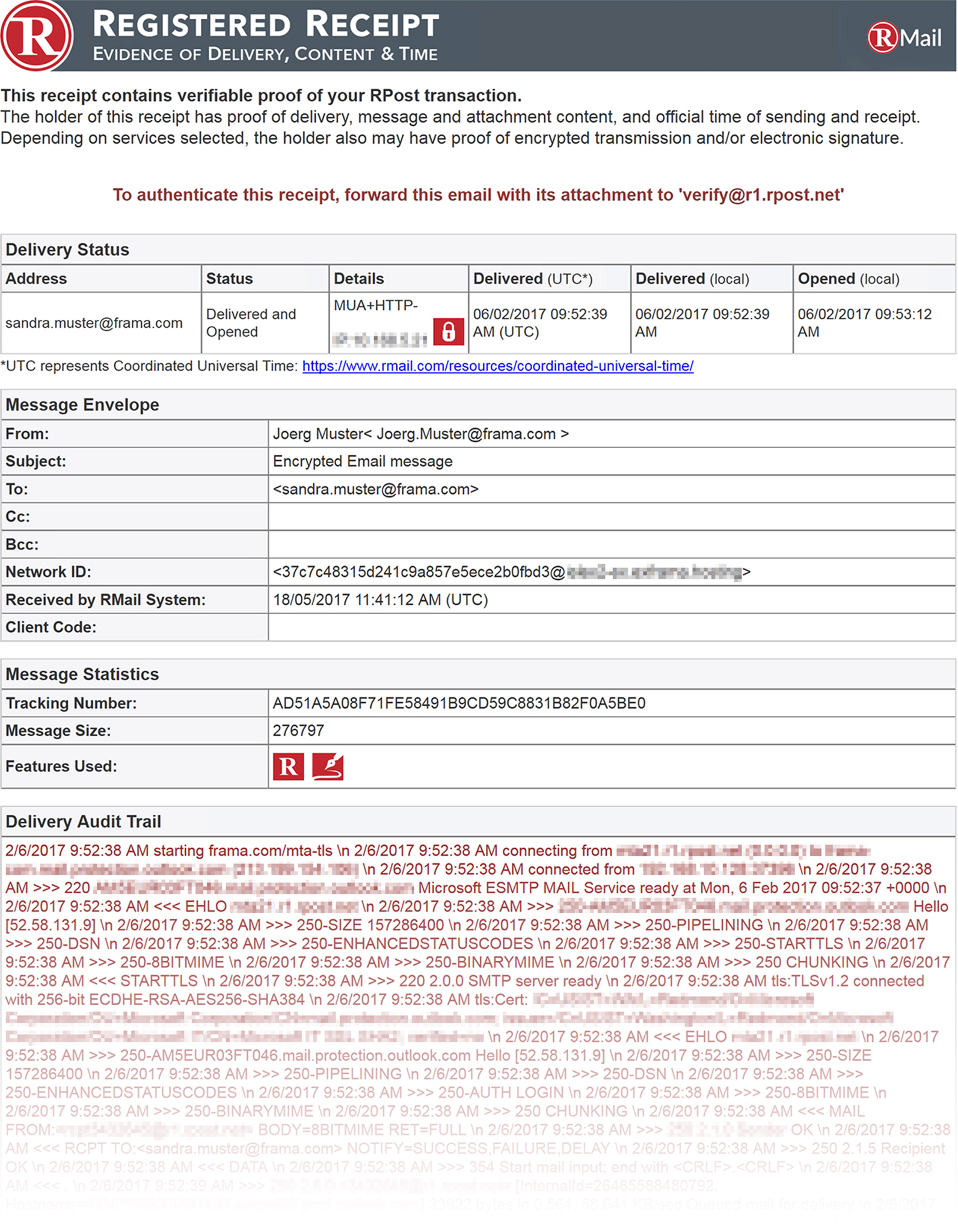 The Registered Receipt: Authenticating and restoring the original email
---
The delivery of each registered email is acknowledged with a Registered Receipt. This proof contains all important information such as the complete message, attachments, transmission and reception times and the used encryption methods. With this proof, you can also allow third parties to verify the authenticity of the submitted email message in the event of a dispute. In addition, the original contents of the message can be restored at any time.
---
HTML receipt
---
The attached file "HTMLReceipt" contains the actual delivery receipt. This file contains the original email including all attachments in encrypted and digitally signed form, the complete delivery history (audit trail), digital fingerprints and the timestamps of sending and reception. All information is digitally signed and thus protected against manipulation.
In a dispute in which sent emails play a role, the original files can be restored. The RMail user can forward his Registered Receipt to the other party at any time for the verification of the originality of the email.
---
Send status
---
The Registered Receipt includes the send status and the delivery times, if available.
---
Audit trail
---
RMail logs the track & trace information for each email. This includes the server logs as well as additional information of data transfer. This will track the entire route the email message took.
---
Email encryption
---
Email encyption with a single click
---
An unencrypted email is as secure as a postcard. The message can easily be read and manipulated at any time. Even if you do not send sensitive information or documents - personal messages, pictures or files should still be protected from unauthorized access! With RMail you can easily send your messages encrypted with a single click. If required, the email encryption can be set as default. And best of all, your recipients can easily read your encrypted emails without registration, key management or web accounts!
Automatic selection of the encryption method
---
The Auto-TLS feature of RMail detects automatically if there is a secure connection between sender and receiver. If a secure TLS connection is possible, the email is sent over it. And if the recipient's email server does not support TLS, the message is converted to an encrypted PDF (SecurePDF, 256-bit AES encrypted PDF wrapper) that can be securely delivered to the recipient via a normal connection.
---

Email encryption without intervention of the recipient and with encrypted reply
---
The RMail encryption solution with SecureReply enables recipients to receive encrypted messages without any previous setup effort and also to answer in encrypted form. If no TLS connection is possible, each encrypted email contains a link to securely reply directly from the browser.
---
Sending large attachments via email with LargeMail file transfer
---
Sending large files by email is often difficult. Either the files must be compressed before sending - or a third-party provider is used, whereby you can never be sure how and for what purposes your documents are stored and searched. In contrast, RMail allows the direct and secure forwarding of large files up to 1GB directly from your email program and deletes them automatically after 14 days (adjustable) from the RMail server.

Large attachments up to 1 GB
---
Most email providers only allow the transmission up to a certain file size (standard 10-25 MB). With LargeMail, you can exchange sensitive information and attachments up to a size of 1 GB directly via email. Including encrypted transmission and proof of download.
The recipient can download the attachments via a link known only to him (on request with password) within 14 days. After this time window, the files are completely and definitely removed from the e-communications system.
---
Automatic activation for large attachments
---
RMail can be configured to automatically activate the LargeMail option for file attachments above a certain size.
Side notes for maximum comfort and efficiency in communication
---
How often are emails forwarded to an additional recipient in order to provide him with additional information? The answer is: too often. Because this method has several disadvantages: such a conversation is arranged chaotically in the email program, the sender has additional work steps for sending and the recipient of the additional information often has difficulty in recognizing where the note is over and where the actual original message begins. RMail solves this problem with its practical side note feature (SideNote®).

Adding private notes
---
The SideNote feature allows you to attach a private annotation only to specific recipients. This appears like a yellow sticky note attached to the beginning of the message and is thus clearly visible. Side notes are visible only for CC or BCC recipients. The recipients of the original message do not receive this note.
Further advanced functions for email and file attachments
---
RMail offers other important features such as the transmission of contracts for Electronic Signature, the automatic conversion of attached documents in PDF files and metadata removal.
Further information on the mentioned functions can be found in the RMail product overview.
---
Sending electronic contracts for signing
Conversion of attachments into PDF
Removal of metadata
Conversion of attachments into ZIP files
Anti-phishing warnings
Free trial available
Register with your own email address and download the plug-in for your email application.